New Healthcare Medical Device Requirements
The new ANSI/AAMI ST108 standards revolutionize medical device water treatment processing, replacing the older TIR34 guidelines. At Garratt-Callahan, our century-long expertise in industrial water treatment and healthcare solutions ensures you're in capable hands. With our ASSE 12080 Certified team, we offer comprehensive services including water quality monitoring, equipment selection and installation, and advanced ELAP-certified lab testing. Stay ahead of the curve in ensuring water safety and compliance with our in-depth understanding of TIR34 and ST108 standards.
TIR34 vs. ST108
The American National Standards Institute, Inc. released new standards for water treatment used in processing medical devices in August 2023. The new standard — ST108 — replaced guidelines contained in TIR34. The new standard — ST108 — replaced guidelines contained in TIR34. The AAMI Water Quality for Medical Device Processing Working Group developed the new standard as part of the AAMI Sterilization Standards Committee.
ST108 defines multiple water quality levels and steam purity suitable for medical device processing. It also describes the treatment processes to produce three categories of water quality: utility water, critical water, and steam. Garratt-Callahan has more than a century of experience in industrial water treatment and serving the healthcare industry.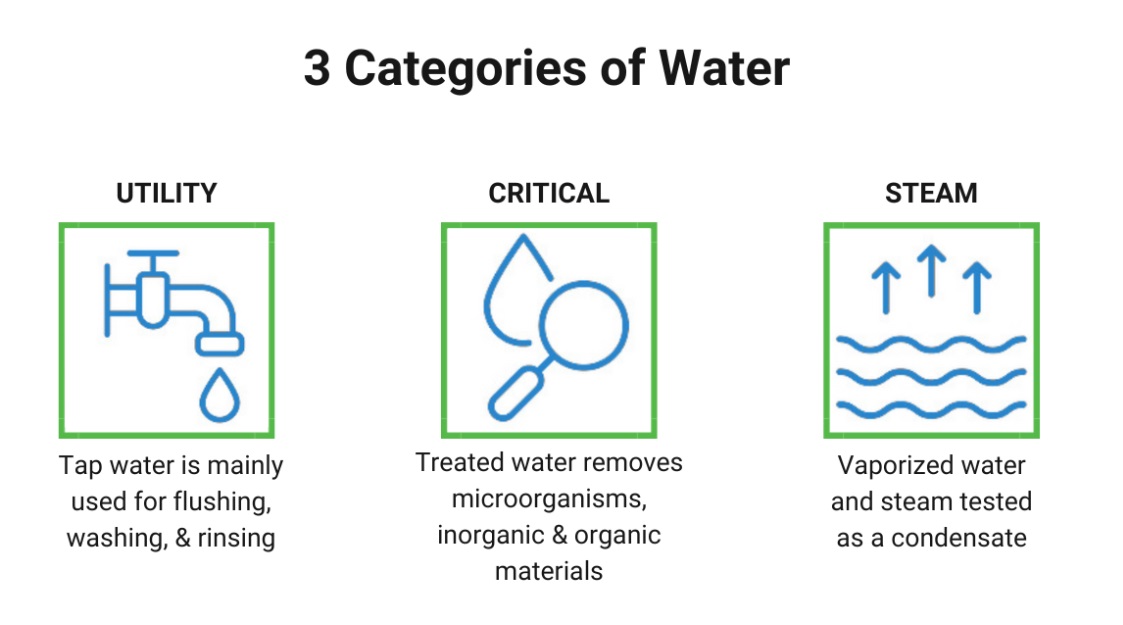 ANSI & AAMI Expertise
Garratt-Callahan has extensive knowledge and experience in water treatment, including a deep understanding of TIR34 guidelines and the new ST108 standards. Our ASSE 12080 Certified team is skilled in:
Understanding and applying AAMI TIR34/ST108
Performing water quality monitoring
Sampling and Interpreting water quality test results
Selecting, designing, installing and servicing medical device water treatment and equipment
Troubleshooting issues in all parts of a water system
ST108 Water Treatment
ST108 establishes water treatment system standards for the processing of medical devices. It outlines:
By following these guidelines, healthcare facilities can ensure that the water used to process medical devices is safe and effective.
ST108 Kits
To support healthcare facilities that process medical devices covered by ST108, we have turnkey testing kits. The kits include all the necessary sampling bottles with sampling instructions and chain of custody, and packing, shipping and labeling materials.
Testing Options
A wide range of testing offered including, but not limited to:
AAMI ST-108 Water Quality testing (endotoxin, HPC, total organic carbon, chloride, color, conductivity, calcium hardness, iron, manganese, pH, turbidity)
Legionella pneumophila SG1-SG15 and Legionella spp.
Legionella spp. identification and enumeration (i.e., L. anisa, L. bozmanii, L. dumoffii, L. feeleii, L. gormanii, L. jordanis, L. longbeachae, L. maceachernii, L. micdadei, L. pneumophila, and L. sainthelensi) 
CMS waterborne pathogens (Fungal, Non-Tuberculosis Mycobacteria, Pseudomonas, Acinetobacter, Burkholderia, Stenotrophomonas) 
Total coliforms/E. Coli 
Aerobic and anaerobic bacteria heterotrophic plate count (HPC) 
CDC Recommended Dental Water Quality Testing (Legionella, HPC, Pseudomonas aeruginosa, NonTuberculosis Mycobacteria) 
Microbial Corrosion Screen (acid-producing bacteria, iron-related bacteria, slime-forming bacteria, sulfate-reducing bacteria, fluorescent pseudomonads, denitrifying bacteria, nitrifying bacteria)
Additional tests available 
ASSE 12080 Certified
When you work with the Garratt-Callahan Water Safety Management team, you're working with ASSE 12080 certified professionals, which is essential to water safety and overall compliance. Our certified personnel help clients with risk management, water safety plans, monitoring, treatment, and more.
Connect With Industrial Water Treatment Expert
Garratt-Callahan started with servicing the boilers that powered steam-locomotives of the Industrial Revolution. Our expertise in industrial water treatment service continues today for all types of industries and facilities. Our water treatment expertise — demonstrated through on-site consulting, chemical applications, equipment maintenance, and customer service — are more than just 100+ years old. Our client relationships are built on fairness, honesty, and integrity. By thoroughly understanding your needs and challenges, we can roll up our sleeves to find sustainable solutions that work.
"*" indicates required fields