Mitigating Risk in Commercial Facilities
Facilities and property managers must navigate water treatment safety rules and regulations, keeping water systems safe for the well-being of employees and those that enter your facility. Garratt-Callahan is here to help you assess each risk, help you develop a water safety plan, and guide you through its implementation. 
Expert Water Safety Consulting
Clients have been relying on Garratt-Callahan's water safety expertise before, during, and after the COVID-19 pandemic. With over a century of water treatment experience, we serve clients across all industries, including: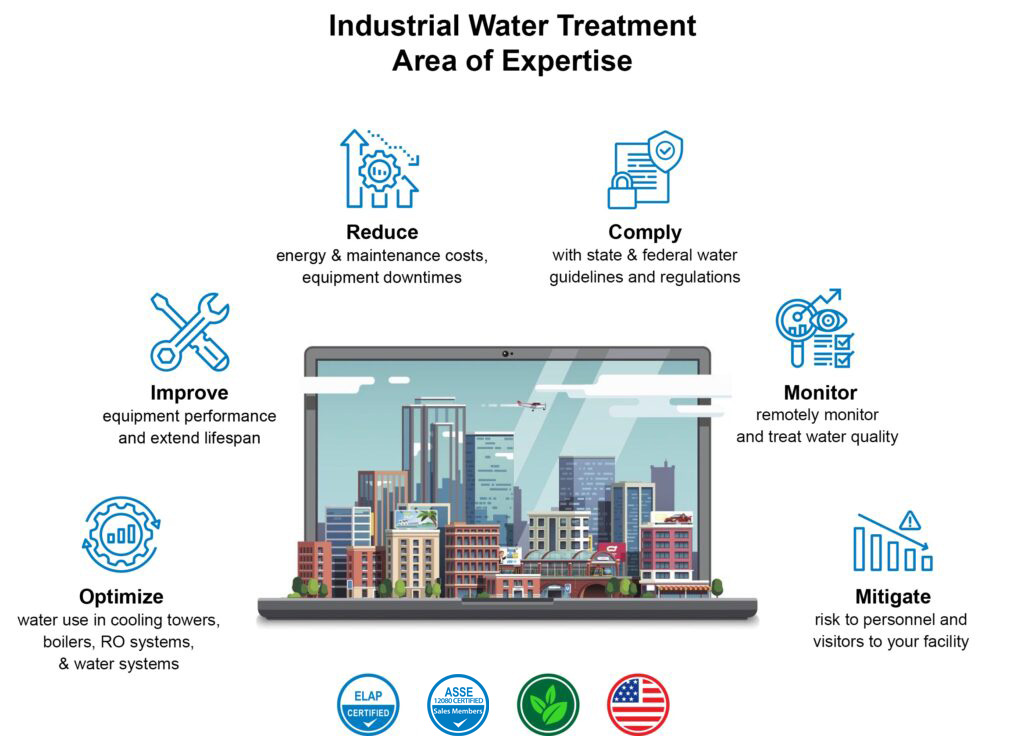 Where to Begin
Our state-of-the-art disinfection programs provide a unique combined oxidant procedure that creates a synergistic effect. Our program allows for lower dosing, which is less corrosive yet provides an enhanced result, more than if either oxidant is used by itself.
G-C routinely helps clients answer and address these flushing and disinfection questions:
How long do I need to flush my systems of dead water?
When will I know the building water has successfully been turned over?
Where in the building do I start flushing?
How many people are needed during the flushing process?
How many fixtures can be opened at one time?
How will I know if biofilm has been removed?
What tests need to be run?
What precautions or procedures have I not thought of?
Multi-Barrier Approach to Water Safety
When it comes to the safety and the health of the people in your facilities and preserving your systems, the most dynamic practice available today is a multi-barrier approach. G-C's program includes developing an individual risk management plan, implementing a water-testing regimen, and deploying in-line ultrafiltration. This holistic system strategy delivers the most robust results and significantly mitigates the risks presented by Legionella pneumophila and other harmful microorganisms.
Certified Experts & Products
G-C is committed to Water Safety, training and certifying its employees to the highest standards available. Certification through the ASSE/IAPMO/ANSI 12080-2020 standard means that you receive advice from those certified water safety experts. These skills include the expertise to develop and assist in the creation of a risk assessment and Water Management Program aimed at preventing and controlling the spread of Legionella and other waterborne pathogens.
Our products meet the ASHRAE 188-2018 Standards, Centers for Medicare and Medicaid Services (CMS) mandates and practices. All G-C products are designed to keep your systems in proper working order and safe to use.
According to ASHRAE Guidelines, "testing is not a substitute for sound maintenance practice. Test results only represent the count at the time the sample was collected." That's why at G-C, we help you manage the entire process, creating a water treatment plan that spans your entire system, including maintenance, appropriate chemical treatment, water and corrosive testing, cleaning, and secondary disinfection.
Connect With Industrial Water Treatment Expert
Garratt-Callahan started with servicing the boilers that powered steam-locomotives of the Industrial Revolution. Our expertise in industrial water treatment service continues today for all types of industries and facilities. Our water treatment expertise — demonstrated through on-site consulting, chemical applications, equipment maintenance, and customer service — are more than just 100+ years old. Our client relationships are built on fairness, honesty, and integrity. By thoroughly understanding your needs and challenges, we can roll up our sleeves to find sustainable solutions that work.
"*" indicates required fields